Fencing tapes
Fencing tapes are an innovative solution that allows creating modern, aesthetic and functional fencing systems for people who want to keep their privacy on the premises, in the garden or on the balcony.
Thermoplast fencing tapes are the only ones on the Polish market that are made of durable, biodegradable and UV-resistant polypropylene. They require no maintenance.
Application: fencing panels, balcony railings, mesh fences.
Technical specifications
Fencing tapes

| Mesh width [mm] | Length [mb] | m per 1m² | Area [m²] |
| --- | --- | --- | --- |
| 190 | 26 | 5 | 5 |
Tape designs
Technorattan I

Basic

Classic line
Tape colour options
Rich colours and modern design allow you to adjust the arrangement of the fences, both to your own taste and the environment. It is possible to combine colours according to individual designs.
RAL 9003

RAL 9010

RAL 1023

RAL 3003

RAL 3011

RAL 5010

RAL 8011

RAL 6009

RAL 6005

RAL 7040

RAL 7030

RAL 7016

End clips
Aesthetic ending of tapes in fencing panels.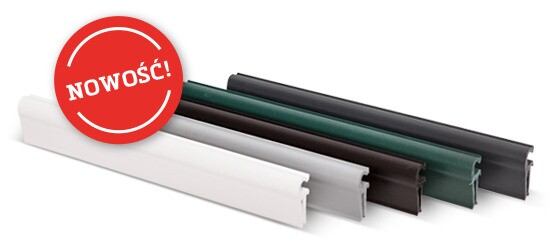 Installation of tapes
The easy installation of fencing and balcony tapes will quickly turn your garden, terrace or balcony into a private space.
Wrap the fence tape on the panel.

Fasten the tape in the end clip.

Attach the end clip with the fence tape to the panel.